Welcome to Legal Access Plans
Member Service Hours of Operation: 7:00 AM central to 7:30 PM central, Monday to Friday.
Message 1: Our Operations are back to normal. Thank you for your consideration and support during the disaster.
Meet Patricia and Michael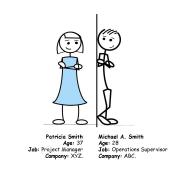 Everyone has the need for an attorney periodically throughout their lifetime. Find out why the Legal Access Method helps the end user and their employer. 
Becoming a Member

Becoming a legal plan member has many benefits, with the biggest being peace of mind. If you are considering enrolling in one of our legal plans, click here to learn the benefits.